Going down the Sorgue in a canoe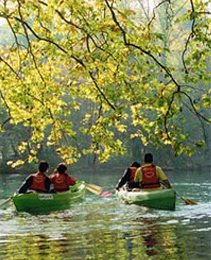 Discover or discover again the canoe trip on the Sorgue from May 15th to October 15th.
The Famous river Sorgue runs from the exurgence of Fontaine de Vaucluse.
Its emerald water is so limpid and clear and has been thesource of inspiration for many poets such as Petrarque or René Char over the last centuries .
Come to discover with your family this beautiful river with us, you'll be most welcomed.
From Fontaine de Vaucluse to Isle sur la Sorgue, Kayak vert wants to make you enjoy the pleasures of canoe and kayak with this 8km trip. (2hours journey)
Our establishment
Our 20year experiment enables us to better understand your expectations while always trying to make you satisfied.
This is why you'll have the choice between canoe for 2,3 or even 4persons or the individual kayak.
It's an high technology equipment and it's renewed regularly.
We provide you with fun lifejacket, simple or double paddle, and a watertight container.
On our site you'll find a bar, a restaurant (grills, salads, sandwiches…), but also WC, cabins to change. Place for Picnic close to the parking.
Kayak vert advises
You have to know how to swim on a distance of 25m, to be able to immerse yourself and to have no medical contraindication. Otherwise, we will not be responsible for any accident.
Take with you a swimming suit and swimming trunks or shorts, windbreaker, plastic shoes or tennis shoes, sun cream, glasses clip…
Water shoes, eyeglass cords and waterproof pouches for cell phones on sale on site.
Booking advised.
No CB.
Environment
Our river is famous due to the quality and the beauty of its emerald water.
We try to protect it.
Do not leave any trace of your passage and preserva the natural environment.
Picnic banned on the whole of the Sorgue.